BEIJING, March 8, 2018 – Professor QIAN Yingyi, dean of School of Economics and Management of Tsinghua University, CPPCC National Committee member and Vice Chairman of All-China Federation of Industry and Commerce, attends the press conference on promoting high-quality economic growth on the sidelines of the first session of the 13th CPPCC, participating with Yang Weimin, deputy head of the Office of the Central Leading Group on Financial and Economic Affairs; Hu Xiaolian, CPC committee secretary and chairman of the Export-Import Bank of China; Chen Xiaohua, former Vice Minister of Agriculture and Ning Gaoning, secretary of the Leading Party Group and chairman of Sinochem Group.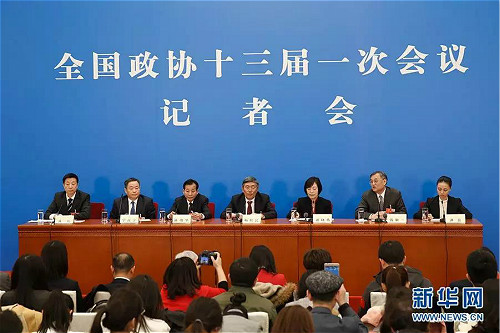 The press conference for the first session of the 13th CPPCC
Dean QIAN remarked to a question concerning the reasons why in the Government Work Report, China sets its economic growth target at around 6.5 percent this year, which is 0.4 percentage point lower than the growth rate of last year.
"It is an important signal as it shows the country's shift from fast growth to high-quality growth. The 6.5 percent growth target would allow a greater room for the country's economic transition." Said QIAN.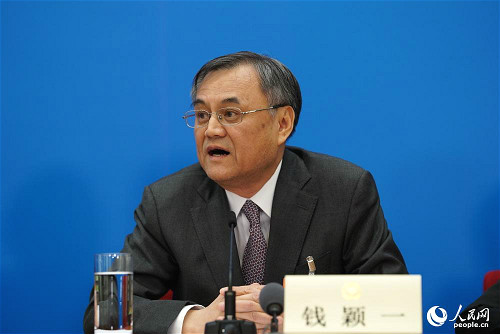 Professor QIAN Yingyi, dean of Tsinghua SEM and a member of the 13th National Committee of the Chinese People's Political Consultative Conference (CPPCC)
Dean QIAN also responded to a query on the assessment of the accomplishment over the past four decades of the reform and opening-up and the challenges in the future.
"To further reform and opening-up, China must continue opening to the world. It should involve areas beyond trade and investment and include other aspects, such as talents and technologies," said QIAN.
"China must make the market play an important role, though labor markets have not been unified across the country due to the household registration system and decentralized social insurance system, and establishing a competitive market needs anti-trust enforcement and competition policies." QIAN added. (Source: China Daily, news.cn and people.cn)