On March 20, 2018, Professor QIAN Yingyi, Dean of Tsinghua University School of Economics and Management (Tsinghua SEM) held an insightful two-hour long dialogue with Zhang Yiming, Bytedance Founder and CEO. Dean QIAN initiated the dialogue with topics of personal sharing of startups, "Context, not control,"from BAT to TMD and looking forward, etc.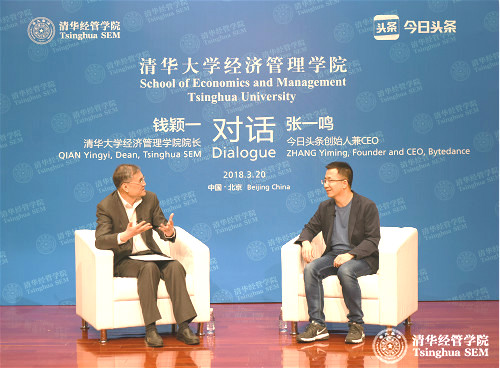 Dialogue with Dean QIAN and ZHANG Yiming
Personal experience
Learning beyond the daily confines of regular course work played an important role in the development of Yiming and his future company. As a student, Yiming devoted a significant amount of time to non-traditional educational resources. "Books on science and society impact your aesthetics and help you to put your life and career in perspective", said Yiming. In addition to textbooks, which offer the quickest route to mastering a new field, Yiming especially loves biographies, because they provide in-depth studies of how people deal with life and challenges. "While everyone has a different path in life, you realize that so many people have shared experiences that are similar in many ways."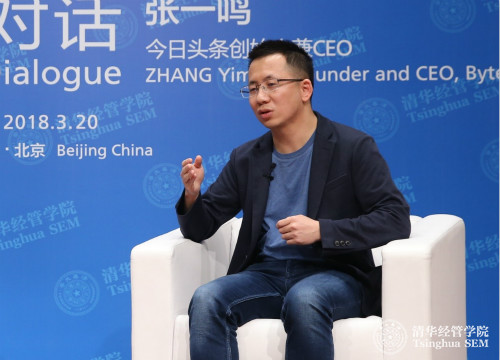 ZHANG Yiming, Founder and CEO of Bytedance
"Context, not control"
Prior to Bytedance, Yiming had been very active as an entrepreneur, founding and participating in four different start-ups straight out of university. Bytedance is built on a foundation of consumer-focused products, cutting-edge technology, and the best in human capital. According to Yiming, "Ultimately it comes down to our team of professionals and how their innovation can be unleashed. Operations are about context, not control. Management protocols need to provide guidance while not stifling creativity."
From BAT to TMD
Dean QIAN spoke about the second wave of innovative technology companies in China. With newcomers Toutiao (Bytedance), Meituan-Dianping, and Didi Chuxing (collectively known as TMD) joining industry stalwarts Baidu, Alibaba, and Tencent (collectively known as BAT), tech innovators in China are maturing. The TMD are all based in Beijing, underscoring the wealth of human capital congregating in the capital city. Indeed, Meituan-Dianping was founded by a Tsinghua alumnus, and Bytedance and Didi both recruit talent on campus.
Looking forward
Looking to the future, Yiming stresses the need to develop fundamental technology while also making sure innovation remains dynamic. At the same time, staying young and remaining close to the culture and market trends are important. "After the acquisition of musical.ly last year, we were concerned that our staff may not understand our target audience, so we made a rule that every team member had to create a short video twice a month – and if you didn't get enough 'likes', you would have to do pushups," Yiming said. With a lively approach to entrepreneurship and a keen sense of the market, Bytedance continues to innovate content discovery platforms and interactive entertainment services for a new generation of digital natives raised on the Internet who demand new experiences.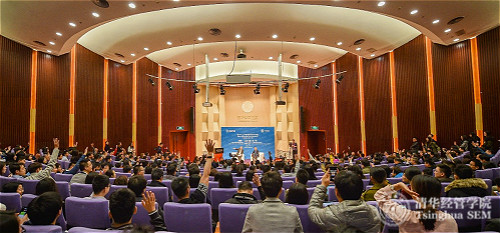 Dialogue with Dean QIAN and ZHANG Yiming
Editor's note:
Founded by Zhang Yiming in 2012, Bytedance is a technology company operating a range of content platforms that enable people to connect with, consume, and create content through machine-learning technology. Its flagship product, Toutiao, has become the largest AI-based content discovery and creation platform in China. Bytedance also operates a series of products popular with mobile users around the world, including musical.ly, News Republic and a number of user-generated short-form video apps.