On April 10, 2018, Professor Bai Chong-en, Mansfield Freeman Chair Professor and Executive Associate Dean of the Tsinghua University School of Economics and Management participated in a dialogue with Robert Steven Kaplan, President and CEO of the Federal Reserve Bank of Dallas. They covered issues ranging from the state of the US economy, US monetary policy, the role of technology in changing the economy, globalization, and the way forward for Sino-US economic relations.
The State of the US Economy
Kaplan stated the US economy in 2018 is relatively strong, however economic factors contribute to a less optimistic outlook for 2019-2020. For 2018, the Dallas Federal Reserve feels the US will grow 2.5-2.75%, due to deleveraging in the housing sector and debt returning to a comfortable level. Tax reform should boost business investment as consumer spending constitutes 70% of US GDP. Unemployment will look to drop below 4.1% and GDP should be solid.
"The last 15 months leading up to Feb 2018 have been the most extraordinary I have ever lived through," said Kaplan. High volatility in the stock market has been not been seen since 1958-1959. One of the reasons is that late-cycle markets are more volatile, because central banks are raising rates and going through an adjustment period. In general, it's due to a late adjustment period and because central banks are talking about removing accommodations and shrinking the balance sheet. "I expect this to continue, said Kaplan, "I'm not sure it's not healthy that there is more volatility and recognition that there is market risk. Low volatility leads to complacency, and higher volatility might be a healthy thing in the long run."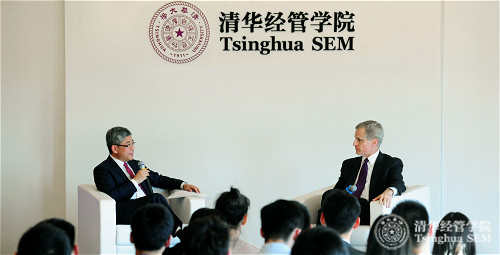 A Dialogue between Mansfield Freeman Chair Professor Bai Chong-en and Federal Reserve Bank of Dallas President and CEO Robert Steven Kaplan
Technology and the Economy
Bai asked Kaplan his position on the impact of technology on the economy, especially considering the fact that many of the benefits don't show up in the numbers immediately. Kaplan stated that technology would affect total productivity, but not the growth rate. This is because the US workforce – which is 160 million strong – has 46 million workers who have a high school education or less; technology boosts productivity while eliminating or restructuring their jobs.
Bai followed up with the question of whether technology is undervalued. Kaplan felt that GDP estimates are normally on the low side, however this doesn't have a big effect on monetary policy. The Federal Reserve will continue its dual mandate, and any impact should be observable through the ten-year Treasury notes and the yield curve. Market data is an important reality check.
Federal Debt
On the question of servicing federal debt, Kaplan noted a number of challenges. The high level of federal debt would normally point towards deleveraging; however, government policy has driven up federal debt estimates. Entitlement reform, including tax reform, may indeed stimulate the economy, however it also reduces the government's ability to service debt.
The way forward for servicing the debt must come from growing the economy. A series of measures would be hugely beneficial: growing the workforce, skills education, immigration reform, and global trade. This is extremely important against the background of Sino-US relations and the potential ramifications of tariffs and a trade war.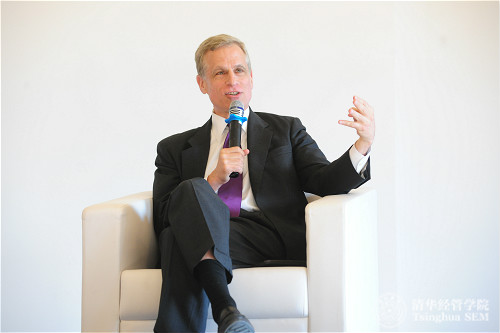 Federal Reserve Bank of Dallas President and CEO Robert Steven Kaplan
Globalization, Multilateralism and US Trade
Bai asked two pointed questions regarding the impact of globalization on the US and the future of multilateralism. On one hand, due to the failure of US domestic policy to spread the benefits of trade more equally, there is a grassroots feeling in the US that workers in China are taking away their jobs and this is a driver for tariffs and a hawkish outlook on trade. On the other hand, the Trump administration has pursued a bilateral approach to trade, eschewing a multilateral approach such as the TPP.
Kaplan addressed globalization within a historical perspective. 15 years ago, local jobs would have been impacted and disrupted by globalization, including trade with China and other trading partners. The loss of jobs today is due more to the disruption of technology in the US as opposed to any international influences. Thus globalization is an opportunity that should not be missed – the US is in a good position to take advantage of it, but the diagnosis needs to be correct.
Kaplan remains hopeful on multilateralism. To use NAFTA as an example, the US-Mexico trade relationship is mutually beneficial. 70% of imports from Mexico are intermediate goods, meaning that they add US jobs and grow the US economy. Fed research indicates that cutting Mexican imports would harm the US economy. To a lesser extent, the US-Canada trade situation is the same. The important point about trade is increasing jobs while maintaining global competitiveness.
Professor Bai Chong-en, Mansfield Freeman Chair Professor and Executive Associate Dean of the Tsinghua University School of Economics and Management
The Way Forward for Sino-US Relations
The Sino-US trade war is a manifestation of real issues that need to be resolved, said Kaplan. The first issue is whether trade is fair and reciprocal, which ties into issues such as how trade agreements should be modernized. The second issue is regarding IP protection and whether there is a level playing field. The best approach is for private conversations to take over from the public rhetoric and to deal with these legitimate issues directly.
Following up on the notion of reciprocity in trade, Bai stressed that one should not forgot China is still a developing country and insisting on reciprocity is unfair to developing countries. Kaplan concluded the discussion on a personal note. He began coming to China in the late 80s and headed the Asia-Pacific area for his organization from 1990-95. During these years, many US and western business leaders have had great interest in seeing China develop and being willing to take an active and willing part in building business in China. "At this stage, unlike 25 years ago, many business leaders have a nuanced view of China and all sorts of challenges," said Kaplan, "which makes me optimistic that over a period of time you will have discussions about dealing with serious challenges."