On May 10, 2018, Mr. Jochen Goller, President and CEO of BMW Group Region China gave a lecture named "BMW in the digital age", and answered questions from MBA students of Tsinghua SEM including automated driving, electric vehicle technology trends, BMW strategy and how to drive innovation in China.
Mr. Goller started talking about the trend and development of BMW China, showing China's rapid growth as well as significant potential. He believed that China's future will be guided by innovation, digitization and shared economy. Besides, he is very optimistic about the Chinese government's planning ability for digital innovation. "It is necessary to analyze drastically and try daringly for digitalization." Said Goller. In the end, he reviewed several BMW marketing cases in China from a professional perspective, emphasizing the younger user's experience.
Professor XU Xin, Associate Dean of Tsinghua SEM, met and greeted Mr. Goller, followed by awarding an Entrepreneurship Mentor Certificate of the MBA Education Center.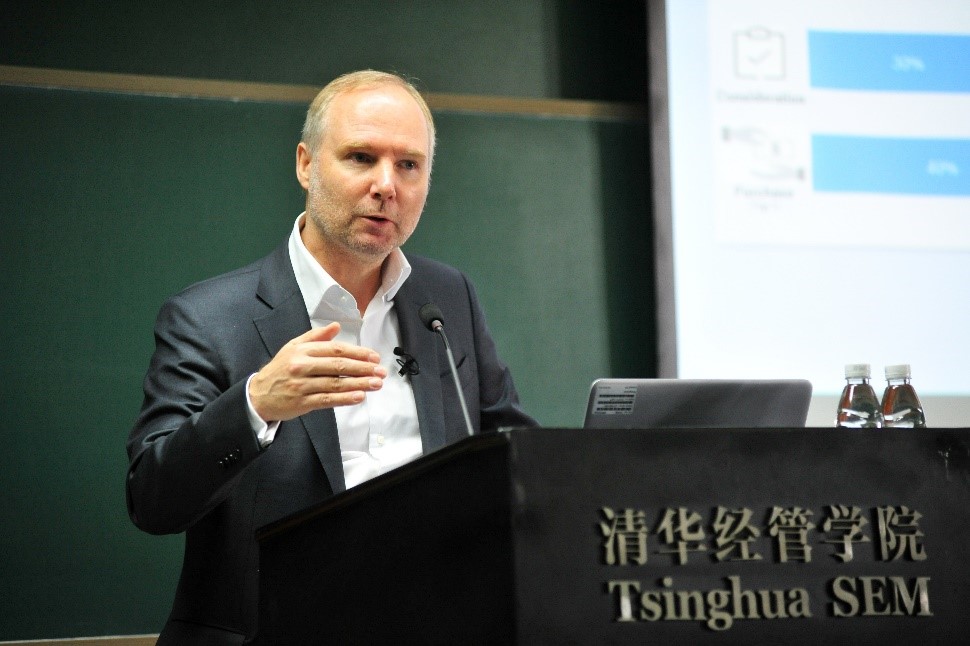 Mr. Jochen Goller, President and CEO of BMW Group Region China
Jochen Goller was responsible for the BMW Group business in Greater China including coordination with the Joint Venture since 1 March 2018. He joined the BMW Group in 1999 and gained valuable insights into the Chinese market from 2004 – 2009, when he was the company's Head of Marketing in the country. From 2009 – 2015, he led the MINI business firstly in the UK and then globally. He subsequently returned to the fast-moving Chinese market in 2015, to oversee sales and marketing as Senior Vice President of the BMW Brilliance Automotive Joint Venture.