Professor Yingyi Qian, Dean of the Tsinghua University School of Economics and Management (Tsinghua SEM) recently engaged in an insightful dialogue with Neil Shen, Founding and Managing Partner of Sequoia China. During the two-hour conversation, Shen discussed corporate culture, industry trends, and the spirit of entrepreneurship.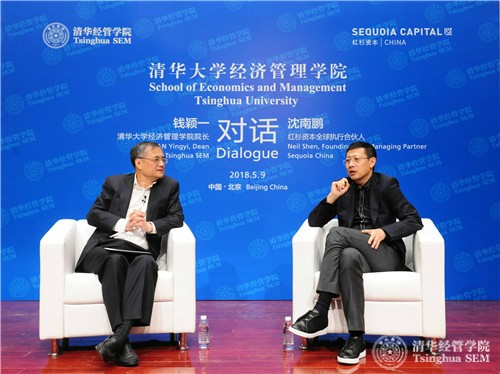 Dialogue with Dean QIAN and Neil Shen
In addition to being a Founding and Managing Partner of Sequoia China, Neil Shen is also the Co-Founder of Ctrip.com and Homeinns Hotel Group. Shen has been honored with prestigious awards in China and across the globe. His ascent to the top of the 2018 Midas List marks a milestone - the first time that a Chinese national has hit the top of the list.
Neil Shen, Founding and Managing Partner of Sequoia China
Teamwork and Meritocracy
When Dean Qian noted Sequoia's emphasis on teamwork, Shen replied by saying that "VC is fundamentally about teamwork." He continued by speaking of meritocracy and the flat organization in Sequoia. "Sequoia also adopts a 360-degree feedback for performance evaluation and a mentor-mentee guidance mechanism for employee development," Shen added, "Keeping the best people is always the key to the success of an investment firm."

Staying Focused in the Right Direction
On the key to his investment achievements, Shen said he believed that keeping up with the momentum of the Chinese market, staying focused and thinking independently were crucial to success. "Everyone knows the importance of staying focused, but choosing a right field and staying focused is not easy," Shen said. "The most important thing is to have your own strategy and make forward-looking assessments on investment sectors and portfolios."

Understanding Industry Trends
Noting the successful investments by Sequoia China in previous years, Qian asked Shen on his assessment of future industry trends. "Information technology will continue to lead the trend, providing new resources and opportunities for other sectors including consumer/service, healthcare and industrial technology. As of now, information technology has been widely used in consumer-oriented Internet, but in the future IT can also be more heavily applied in enterprise services," Shen replied.
Additionally, Shen said that in the last five years, healthcare has become an increasingly important investment field, and some US biotech funds have been turning in an amazing performance in this respect. All of these trends point to the positive trajectory of the industry.
Shen also took the auto industry as an example to explain the trend of industrial technology, one of Sequoia's four key investment sectors. He said that new energy vehicles have brought technological innovation and transformation to traditional transportation. The entire industry is at a watershed moment of transformation, which means that there is an opportunity for Chinese automakers to surpass their international rivals and become world-class enterprises.

Global Perspective and Local Decision-making
Sequoia's corporate culture has been consistent from the start. "'One Sequoia' is the philosophy that we adhere to," said Shen. "Global vision and local decision-making is one of Sequoia's most significant advantages. We've also developed a strong peer-to-peer relationship between Sequoia's partners in the US, China and India. This enables Sequoia to create the right development path for the next 10, 15 or even 20 years," said Shen.

Opportunities and Challenges in China
As Shen has extensive experience across China and the US, he shared his thoughts on the difference between the respective entrepreneurial environments. Chinese startup entrepreneurs and their counterparts in Silicon Valley share more and more similarities. Shen also pointed out that competition among startups in China is more intense, because every entrepreneur in China is trying everything they can to grasp every opportunity.
When Dean Qian mentioned that many Chinese companies seem to be becoming less focused than their US counterparts because of their continuous expansion into other business sectors, Shen said these companies' choice of expansion is actually based on a strong grip on their main businesses.

Unicorns and Long-term Investment
Based on Qian's observation, the numbers of China's unicorns and venture capital funds have grown tremendously in recent years, catching up to those in the US. Asked what's behind this new trend, Shen replied saying that China's enlarging pool of talent gives Chinese enterprises an edge in the competition. But in the long run, especially in industries that require long-term investment, Shen advised that Chinese entrepreneurs need to be more patient. For decades of development across the globe, Sequoia has benefited from its long-term investments in portfolio companies.

Passion and Curiosity
When asked about his inspirations for work, Neil emphasized the importance of passion and curiosity. Passion is what keeps the sense of purpose alive, while curiosity is fundamental to long-term development. As the world around him continues to change, Shen approaches his work with the same passion and curiosity that helped build Sequoia China. "Follow your heart. You have to really love what you do, otherwise it will be difficult to sustain," said Shen.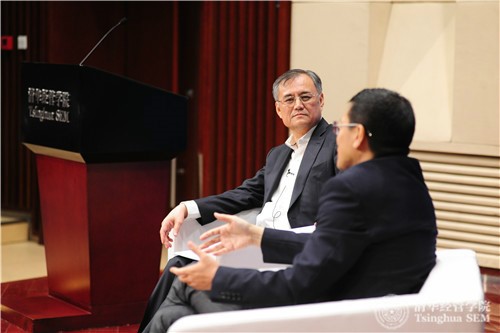 Dialogue with Dean Qian and Neil Shen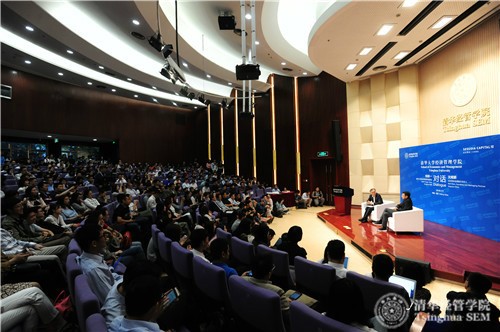 Dialogue