On May 26, 2018, the final of the 5th President's Cup Innovation Challenge of Tsinghua University and the 5th Anniversary Conference of Tsinghua x-lab were held. Professor YANG Bin, Vice President and Provost of Tsinghua University, Professor QIAN Yingyi, Dean of Tsinghua University of School of Economics and Management (Tsinghua SEM) and DENG Feng, Donor Representative of Tsinghua x-lab, Representative of Tsinghua SEM Entrepreneur and Executive Club and Founding Managing Director of Northern Light Venture Capital gave keynote speeches. ZHAI Lixin, Director General of the Administrative Committee of Zhongguancun Science Park, LI Changping, Deputy Mayor of Haidian District and other distinguished guests also attended the events.
At the final of the 5th President's Cup of Innovation Challenge, student teams from Tsinghua x-lab presented their innovative works. "Meijia Robots", a startup team focusing on using robots to improve people's lives won the "Jiatong" Gold Award 2018. The top 10 participating teams range from chemical applications and robotics, to APPs and tools for learning, which were all nurtured in the Tsinghua x-lab.
"Jiatong" Gold Award of President's Cup of Innovation Challenge 2018
Followed by an award ceremony, Vice President YANG Bin indicated that "Tsinghua x-lab has become a model of leading talent training and entrepreneurship education among domestic universities. It will cultivate students' minds and continue to reform and to innovate, regardless of short-term gains and losses."
Dean QIAN delivered a keynote speech. "Educating creative talents plays a significant role in the future education, and cultivating entrepreneurship is our responsibility at Tsinghua SEM. The mission of Tsinghua x-lab is dedicated to the development of entrepreneurship as well as leadership," said QIAN.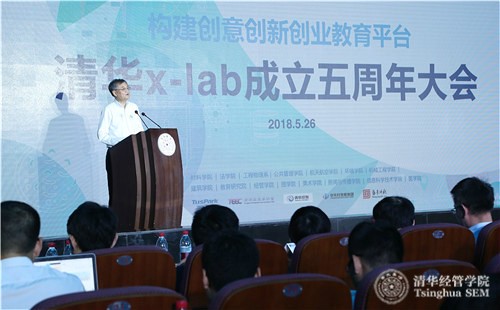 Dean QIAN Delivered a Keynote Speech
Up to now, Tsinghua x-lab has assisted over 1,200 teams pursuing their innovation dreams during the past five years. Moreover, it offers Tsinghua students and alumni a platform to conduct collaborative projects. It echoes the national campaign of mass innovation and entrepreneurship.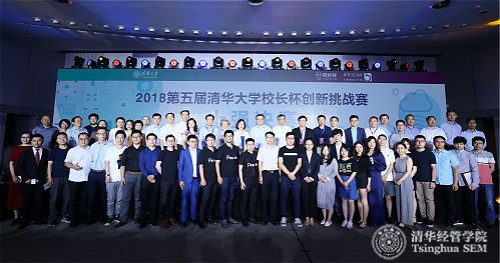 Group Photo