On September 9 to 10, an academic conference of China's Path to the New Era was held at Tsinghua University School of Economics and Management (Tsinghua SEM). 2018 marks the 40th anniversary of China's reform and opening-up. Through four decades of reshaping internal structures and opening up to external actors, China orchestrated an utterly unprecedented project of rapid economic growth and social development, drawing attention on scholars around the world. On this occasion, the Institute for Global Industry (IGI) at Tsinghua University, together with Technology and Management Centre for Development (TMCD), Oxford University, Chinese Economics Association, UK/Europe (CEA UK/Europe) and the Journal of Chinese Economics and Business Studies (JCEBS) jointly hosted it. The conference was also for commemorating the 30th Anniversary of CEA UK (1988-2018), the 10th Anniversary of CEA Europe (2008-2018) as well as the 15th Anniversary of JCEBS (2003-2018). Scores of experts in the fields of economics and management from China and abroad attended the conference.
Professor LI Jizhen, Associate Dean of Tsinghua SEM, gave an opening remark. He observed that the forthcoming technological and industrial revolution could completely reshape the global value chain and consequently, the Chinese economy. Professor HOU Wenxuan, the 30th President of CEA UK/Europe, remarked that the success of the CEA was inseparable from the momentous changes in the Chinese economy during the last few decades. He pledged to further the CEA's cause to create a globally influential platform for the study of Chinese economics and business. Professor FU Xiaolan, JCEBS Editor-in-Chief introduced JCEBS to the assembly as a journal devoted to supporting global academic ventures in China and publishing theoretical and practical research on Chinese economics and business. She stressed that JCEBS not only values a classical approach to research but also welcomes more innovative perspectives and theories with open arms.
On the open forum, Professor LIN Yifu from Peking University, Professor Gary H. Jefferson from Brandeis University, Professor ZHANG Weiying from Peking University, Professor ZHANG Jun from Fudan University, Professor CAI Fang, academician from the Chinese Academy of Social Sciences and Professor FU Xiaolan from Oxford University gave keynote speeches on China's development from the perspectives of development paradigm, technological innovation, and institutional change, respectively.
In the CEA Presidents' forum, Professor LIU Shaojia from Peking University, Professor LI Yuan from University of Duisburg-Essen, Professor HOU Wenxuan from University of Edinburgh, and Professor WANG Xiaobing from University of Manchester discussed topics ranging from reform of state-owned enterprises to the Belt and Road Initiative. Professor YAO Shujie from University of Nottingham Ningbo chaired the forum.
In the afternoon closed-door session "Innovation & Paradigm Shift" and "Globalization, China and the World Economy," dozens of scholars, industry experts and policymakers from China and around the world had a free and in-depth discussion. Concluding the day-long productive exchange of ideas, Professor ZHU Hengyuan from Tsinghua SEM expressed his hope that the insightful thoughts contributed by all would inspire further research to guide China's economic development.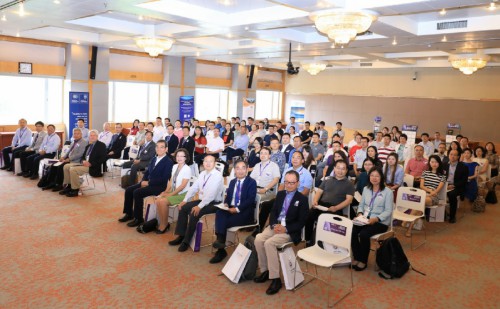 Group Photo