On September 8, 2018, Tsinghua University-Singapore Management University (Tsinghua-SMU) MCFO & MPAcc dual-degree program (known as MCFO program) held its first opening ceremony for Class of 2018. Professor CHENG Qiang, Dean of SMU School of Accountancy, Professor XU Xin, Associate Dean of Tsinghua SEM and Professor XIAO Xing, Director of Department of Accounting of Tsinghua SEM attended the ceremony and delivered speeches.
Dean CHENG extended a warm welcome to presenting guests and the first intake of students of MCFO Program. He said "accounting principle is changing while constantly thinking behind it remains." Addressing the significance of "teaching and learning", CHENG expected that faculty and students can learn from each other and make progress together.
Professor XU Xin, Associate Dean of Tsinghua SEM, retraced the history of the two universities in his remarks. According to him, "the cooperative education between the two parties has exercised their absolute advantages in professional development and career crafting respectively, and it has established a benchmark for MFCO Program". He mentioned afterwards that there is a large number of accountants in China; however the number of outstanding CFO are scarce. The mission of cultivation by the MCFO Program, pointed out by XU, is "to provide talents for economic development and social progress, and to cultivate financial and management leaders with a global vision".
Professor XIAO Xing, Chair of Department of Accounting of Tsinghua SEM, who experienced the birth of the MCFO Program, indicated how challenging it was. She anticipates that students returning to school hold an earnest attitude to learn from outstanding peers without idling away their time.
Ms. LYV Lianfu, Representative of Industry Mentors of MCFO Program and General Manager of China Reform Holdings Corporation Ltd., recalled her fascinating time at Tsinghua SEM, throughout the MCFO Program, industry mentors will sincerely share their financial experience with students and assist them with long-term career planning.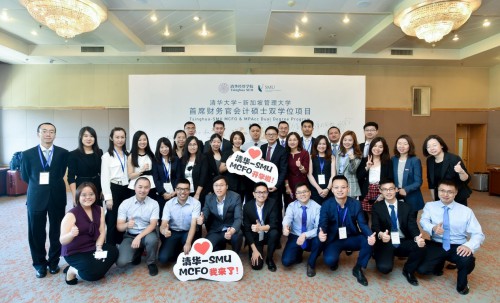 Group Photo