On October 28, 2018, QIU Guohong, Ambassador E. & P. of the People's Republic of China to the Republic of Korea met Mansfield Freeman Chair Professor BAI Chong-En, Dean of Tsinghua University School of Economics and Management (Tsinghua SEM) at the Chinese Embassy in Seoul.
During the meeting, Ambassador QIU Guohong briefed Dean BAI Chong-En the political, economic and education situation in Korea. He expressed that Tsinghua SEM has made outstanding contributions to promote bilateral education cooperation, cultural exchanges and faculty training. The Ambassador wished that China and Korea will strengthen people-to-people communication, increase mutual understanding and play a greater role in promoting bilateral relations.
Dean BAI Chong-En provided an overview of the academic research and programs of Tsinghua SEM. He expressed that Tsinghua SEM will further enhance the academic exchanges between China and Korea and cultivate more interdisciplinary talents to promote the social and economic development of the two countries.
Over the past years, Tsinghua SEM has opened its enrollment programs to Korea and gathered hundreds of outstanding talents and management elites from Korea. After graduation, most of them returned to Korea and entered into various fields such as economy, science and technology and education, making important contributions to the economic exchanges and development of China and Korea. Tsinghua SEM Korean Alumni Association was officially launched in 2016.
GU Jinsheng, Minister-Counsellor (Economic & Commercial), Embassy of the People's Republic of China to the Republic of Korea, QIAN Xiaojun, Professor of Tsinghua SEM and Associate Dean of Schwarzman College, JIAO Fangxing (MBA Class of 2010), Director of Tsinghua SEM Alumni Center and Secretary General of Tsinghua SEM Alumni Association, MA Jia, Director of MBA Programs of Tsinghua SEM and HUANG De (EMBA Class of 2012), Governor of Bank of China Seoul Branch also attended the meeting.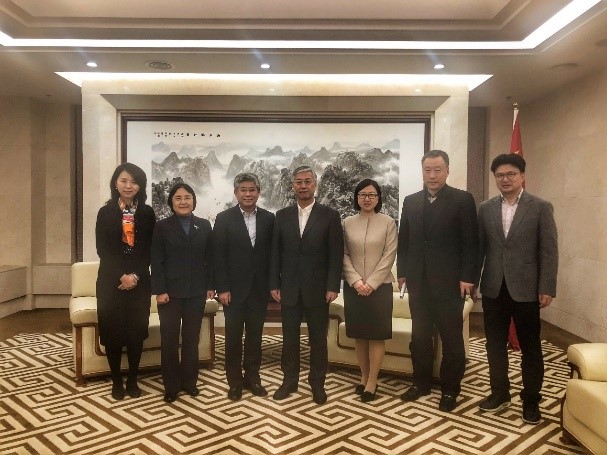 Group Photo