From October 11 to October 13, 2018, Tsinghua Students Dialogue with Board Members were held as part of the series of Tsinghua SEM 2018 Advisory Board Meeting. 11 Board Members entered 11 Tsinghua SEM classrooms to interact with students in an intimate setting.
The 11 Board members participating in the dialogue sessions were: LIU Mingkang, Former Chairman, China Banking Regulatory Commission, Ratan N. Tata, Chairman, Tata Trusts, Chairman Emeritus of Tata Sons, Tata Industries, Tata Motors, Tata Steal and Tata Chemicals, David M. Rubenstein, Co-Founder and Co-Executive Chairman, The Carlyle Group, Geoffrey Garrett, Dean, The Wharton School of the University of Pennsylvania, Jim Breyer, Founder and CEO, Breyer Capital, Jacob Wallenberg, Chairman of the Board, Investor AB, Stephen A. Schwarzman, Chairman, CEO and Co-Founder, Blackstone, Carlos Brito, CEO, Anheuser-Busch InBev, Richard Li, Chairman and Chief Executive, Pacific Century Group, Ginni Rometty, Chairman, President and CEO, IBM and Denis Duverne, Chairman of the Board, AXA Group.
LIU Mingkang analyzed China's current economic development quality from aspects of economic growth, investment, wealth gap, environment protection, innovation, anti-corruption and finance, and made a comparison between China and foreign countries. From the perspective of investment, the total investment efficiency is declining, with the growth of private fixed investment increasing and foreign direct investment leveling out. In terms of environment protection, he indicated the inflection point for China's energy consumption per unit of GDP is expected to come in 2028, but there are tremendous challenges from the iron and steel smelting industry, and water pollution. In terms of innovation, China's investment in research and development is on rise year by year, but the R&D talents are in still in short. The market values of the innovation-driven Internet companies are much higher than companies in traditional industries, and the return of investment from the Fintech sector also far exceeds that from the traditional banks and financial institutions. However, the delisting rate of China's stock market is much lower than that in Britain, the U.S. Japan and South Korea. China has made great achievements in the anti-corruption campaign, but the legal flaws and rising labor cost are still concerns by foreign-funded companies in China.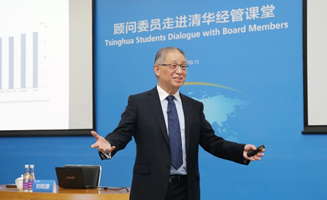 LIU Mingkang, Former Chairman, China Banking Regulatory Commission
Ratan N. Tata believes that the interesting structure of the group makes it differ from other Indian firms. According to Mr. Tata, Tata Trusts is the biggest shareholder of Tata Sons, with a stake of about 60 percent. The trust devotes about $100 million to charity every year. "We create wealth and pay back the society. I think that's the unique thing that what other companies can do, "Tata said. Tata's strong belief of giving wealth back to the people is reflected in his donations of approximately 60-65 percent of his wealth, especially in the support of education, medicine and rural development, distinguishing him as a leading philanthropist in India. What Mr. Tata feels most proud of for is that there is no corruption his 21-years leadership of the Tata Group despite of the rampant corruption in India. "People believe you cannot do anything without corruption in India, the fact is you can," Tata said. In responding to the question of how to choose a good successor for an enterprise, Mr. Tata jokingly said his a bad example, because the successor he appointed in 2012 when he retired turned out to be not successful and Mr. Tata had to remove him from his post in 2016, which evolved into a lawsuit and a crisis for the group. "I don't think there is a formula for choosing a successful successor," Tata argued. Mr. Tata thinks that it is not easy either to take over a family business or to make a start-up by oneself for the youth, as you have to deal with the tie with relatives in a family business and face uncertainty of competition and failure with a new venture. The answer is to follow your heart, he suggested.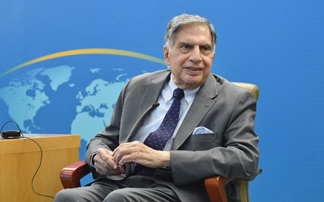 Ratan N. Tata, Chairman, Tata Trusts, Chairman Emeritus of Tata Sons, Tata Industries, Tata Motors, Tata Steal and Tata Chemicals
David M. Rubenstein shared with students three aspects of his life, ranging from his early career as a politician, to starting up Carlyle Group, and to his contribution in charity. He is a believer of "making an impact". He was inspired by John F. Kennedy's famous speech "Ask not what a country can do for you, but what you can do for your country", which guided him to become a politician to serve his country in 1976. After being successful in the public sector, Mr. Rubenstein started Carlyle Group with 3 founding partners at the age of 37. He iterated that intelligence, hard work, communication and passion are the key factors to be successful in the finance industry. Being one of the most successful investors in the world, Mr. Rubenstein commented that although he believes the US market is the best place for private equity investment, he reinforced the promising future and development of private equity markets in China and India. He looks forward to seeing more Chinese private equity firms to play leading roles in both domestic and overseas markets. Besides work, Mr. Rubenstein also participates in charity and community giveback. Apart from donating to university education and medical research, he wishes to raise awareness on US history and civic education. He believes that learning from our past mistakes is a great way to help us to become successful in the future. In conclusion, Mr. Rubenstein encouraged students to retain value and passion, think and make wise choices with our life and career, do not lose sight and explore as much as possible. Mr. Garrett went through three challenges faced by international politics and economy, from Sino-U.S. relations to technology, and in the end to the issue of society and democracy. He strongly encouraged students to ponder over the big questions he posed.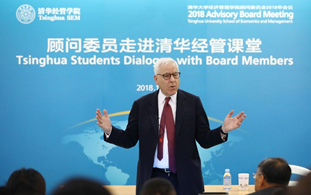 David M. Rubenstein, Co-Founder and Co-Executive Chairman, The Carlyle Group
Geoffrey Garrett started of the presentation by speaking highly of China's economic miracle since the reform and opening-up, stressing its deep impacts on the global economy and its transition to a more innovative economy. At the same time, he also pointed out that the tension between China and the United States could be of many factors, that being historical, cultural, political and more. He hopes for the people to be more critical when looking at this issue. Next, Mr. Garrett shared his observations on the stagnation in wage growth and the rise of the gig economy over the past few years in the U.S, followed by his worries on how technology developments have impacted the employment sector. Lastly, he focused on various social challenges in today's world, including the trend of populism and inequity as well as the lack of education resources. At the end of the session, Mr. Garrett spoke from his own experience that students should continue to broaden their international vision and participate actively in the society to keep up with the times.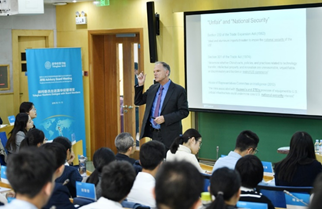 Geoffrey Garrett, Dean, The Wharton School of the University of Pennsylvania
Jim Breyer began the session by sharing with students some of the key themes of his investment activities in the last four years. He mentioned that he has been primarily focusing on AI-enabled ventures because he believes that an extraordinary amount of innovation is going to be generated in this area over the next few decades. He mentioned facial recognition, voice recognition, computer vision and neurology computing as some of the areas that his portfolio and target companies focus on. In terms of desired team structures, Mr. Breyer emphasized that it will generally be diverse teams that succeed in their venture. Firstly, a team of founders that is diverse in disciplines generally promises better results. In particular, if AI scientists work together with people from other disciplines the synergies can reap great benefits. The second point of emphasis was around the current gender imbalance in AI start-ups. At the moment, whether it is in Silicon Valley or China, venture teams generally consist of mostly men. In Mr. Breyer's point of view, a company that has a predominantly male management or founding team should not be considered a target. He stressed that in the long-run to maximize the benefits that AI brings to the world, it will be necessary to ensure that more women enter the industry. In terms of the future outlook of his investment policy, further discussion with students focused on the ethical implications of AI. Mr. Breyer expressed that he himself is an optimist in this currently hotly debated topic in Silicon Valley. Whilst to him it seems clear that many jobs will be replaced by AI over the next few decades, he thinks that machines are still far away from replicating human judgment and there will continue to be great innovation in this space.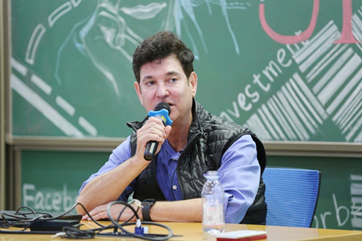 Jim Breyer, Founder and CEO, Breyer Capital
Jacob Wallenberg gathered an audience of bright, ambitious students for an afternoon of insights and laughs. Spanning five generations and one hundred and sixty-two years, the Wallenberg family has developed a tried and true method for producing forward thinking individuals with the drive to help not only the family business, but to think unto the well-being of society as a whole. While folks struggle to keep their nuclear families together, Jacob Wallenberg is at the helm of a family conglomerate leading them on the right path. Investor AB, the Wallenberg Company, takes a more long-term, relationship centered approach to private equity and venture capitalism. In the current prevailing culture of quick ins and outs, Wallenberg finds space to differentiate through investing for the future. This is possible because he states that his business philosophy does not prioritize only short-term return on investment. Capital gains from various investments are funneled into many socially responsible ventures through The Wallenberg Foundation. They have programs ranging from Leukemia research to putting Sweden on the forefront of quantum computing research. The Wallenberg family has these many programs and investments in place largely to curb the worry of the large clouds hanging above our generation. The harsh realities that we face today include a return to protectionism in much of the Western world.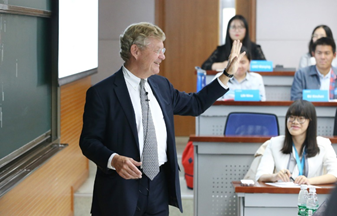 Jacob Wallenberg, Chairman of the Board, Investor AB
Stephen A. Schwarzman exchanged ideas extensively with students from personal experiences, putting forward many valuable suggestions about investing, leadership and life. He stressed that the road to success was always painful, from his life experience, concluding the story about how frequently he was rejected when setting up his own business and how hard it would be to become a successful entrepreneur. There would be many unpredictable accidents in one's life, also, there will be much rejection and desperation. But one must keep going and never give up. Meanwhile, Mr. Schwarzman shared what he had gained and comprehended from his investment experiences. For example, if a smart person you are familiar with advises that "you should do this thing", just do it without too much deep thinking. At the same time, he thought highly of the innovation and cooperation in China. The communication with founders of some top companies in TMT industry was said to be very enlightening and of great fun. Mr. Schwarzman laid stress on the responsibility and leadership. As the Chairman, CEO and Co-Founder of Blackstone, Mr. Schwarzman not only regarded the service to customers as his work, most importantly, he saw it as a mission, to think over and pay great attention to every business of the firm. He also shared that a person should learn to be a better teacher as he became more and more experienced and successful. Only in this way could attract more talented people into the group and progress collectively.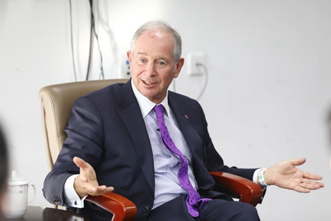 Stephen A. Schwarzman, Chairman, CEO and Co-Founder, Blackstone
Carlos Brito shared his stories about AB-Inbev's history, and then proceeded to talk about the three things he believed helped AB-Inbev become the success it is today: dream, people, and culture. In order to achieve great things, one must first have a dream, a vision. Then, he said, to pursue that goal and dream, one must surround himself with the right people. Only the right environment and people can help realize that dream. Finally, the right culture can bring and attract the right people and foster new dreams. Mr. Brito further elaborated on his strategies when it comes to mergers and acquisitions. First, AB Inbev needs to identify companies that have potentials. It needs to make sense to acquire the company, so that 1+1 can be greater than two. Furthermore, the company must share similar values and beliefs, and ultimately at the end, only one culture can emerge. As a result, one must find a company culture that can be established and maintained by both companies after the merger or acquisition. After the dialogue, the MBA class of Tsinghua gifted Mr. Brito a special and unique Tsinghua T-shirt and bag that had his name embroidered on it. The class took a photo together, with Mr. Brito wearing his new Tsinghua T-shirt, to commemorate this wonderful and impactful afternoon.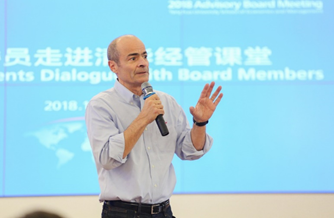 Carlos Brito, CEO, Anheuser-Busch InBev
Richard Li joined a roundtable discussion with Global MBA students at Bulgari Hotel, Beijing. He began the session by encouraging students to live aboard for a period of time to understand the diversity of cultures and lifestyles in the world. A deep understanding of a culture becomes a valuable opportunity when creating a business. At the following Q&A session, when asked about the current market condition, Richard advised investors to delay entry into the stock market and focus on strategy and competitiveness. The stock market is volatile, but this is not a crisis. He also expressed his enthusiasm towards the Greater Bay Area project. According to him, Hong Kong is strong in financial services and business practices, and the legal system and accounting practices are more adaptable to other developed countries. However, Hong Kong should be supplemented by Shenzhen for its technology to create economic growth. He recalled an inspiring conversation with a professor from Israel about his way to find students with potential and nurture them into Nobel Prize winners even with limited resources in a small institution. Richard also shared with students that it is important to know what they really want to be, what their competitive advantage is, and what they are willing to sacrifice. He concluded the session by reiterating that developing a deep understanding of other cultures is key to future success.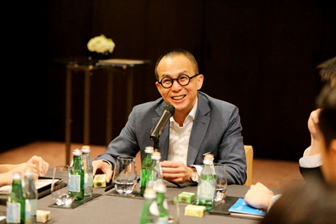 Richard Li, Chairman and Chief Executive, Pacific Century Group
Ginni Rometty had a dialogue with Professor QIAN Yingyi, Vice Chairman of Tsinghua SEM Advisory Board, Distinguished Professor of Arts, Humanities and Social Sciences, Tsinghua University, Professor of Economics and the Fourth Dean (2006-2018) School of Economics and Management, Tsinghua University. They covered the topics ranging from IBM's reinvention, the development of artificial intelligence, as well as their views on data privacy & responsible tech. Mansfield Freeman Chair Professor BAI Chong-En, Dean, Tsinghua SEM, also attended the event.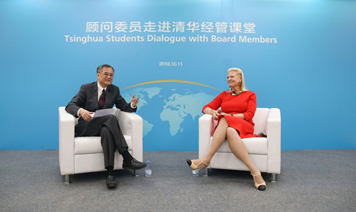 Ginni Rometty, Chairman, President and CEO, IBM
Denis Duverne, firstly introduced the concept and increasing importance of "corporate responsibility". According to him, with growing demand on corporate responsibility by investors, investment for sustainability has been significantly favored because of social benefits and financial return. And he pointed that AXA practices this philosophy of sustainable investment with focus on three main pillars, environment and climate change, health prevention and responsible data utilization. During the following Q&A session, he emphasized that AXA was not choosing between sustainability and investment performance, but choosing sustainability for better performance. He also share his perspective on the Paris Agreement, risk management and cost control of insurance.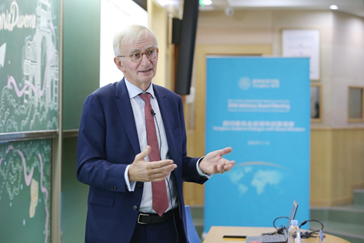 Denis Duverne, Chairman of the Board, AXA Group