On November 14, 2018, Francisco J. Riberas, Executive Chairman of Gestamp, the Spanish multinational specialized in the design, development and manufacture of highly engineered metal components for top vehicle manufacturers, visited Tsinghua University School of Economics and Management (Tsinghua SEM) and delivered a keynote speech titled "Gestamp Group: A Model of Innovation-driven Global Family Business".
Mr. Riberas before proceeding the event exchanged greetings with Mansfield Freeman Chair Professor BAI Chong-En, Dean of Tsinghua SEM. Dean BAI Chong-En extended warm welcome and further discussed interests in potential opportunities for future university-industry cooperation.
Mr. Riberas introduced in his remark, Gestamp's origin, development, strategic plan and product portfolio. He lectured, "Connectivity, Autonomous Driving, Shared mobility and Electrification (CASE), together with evolution of Industry 4.0 are new challenges of automotive industry. Digitalization and technological innovation are two key factors of future competitiveness. Gestamp has two folds approaches to conquer such challenges: the lightweight solutions and safety focus for electrical vehicles. And China is of the key growth market for Gestamp since 2007. Today, Gestamp is considering new developments with Chinese players regarding cutting-edge technologies to satisfy new Chinese market demands."
Mr. SHI Zongkai, Vice Chairman of Tsinghua University Affairs Council, in his remark pointed out, "Benefitting from the large picture of China's 40 years of Opening Up, we now have the chance to bring in top Spanish entrepreneur to share his experiences on how to make a miracle out of the process of globalization today. This is a precious opportunity for Tsinghua faculty and students to learn about Spain and also an initiative for establishing a future relationship. I sincerely hope Tsinghua could make ways for the development of Chinese and Spanish companies and provide opportunities for future cooperation."
Professor LEI Jiasu, Director of Center for Enterprise Growth and Economic Security Research (CEGESR), Tsinghua University and Professor of Department of Innovation, Entrepreneurship and Strategy extended sincere thanks to Mr. Riberas for his wonderful speech. "You have brought innovative minds, thoughts, new product concepts and managerial methods to our students," he said, "I hope Gestamp in the future could explore more opportunities in China and bring innovative platform and career opportunities for students."
During the Q&A Session, Mr. Riberas exchanged opinions with LI Xianjun, Director of Department of Automobiles Engineering, Tsinghua University and Director of Tsinghua University Vehicle Development Research Centre, HUANG Yonghe, Chief Engineer of China Automotive Research Center and students on hot topics including family business development, automobile innovation and new technologies.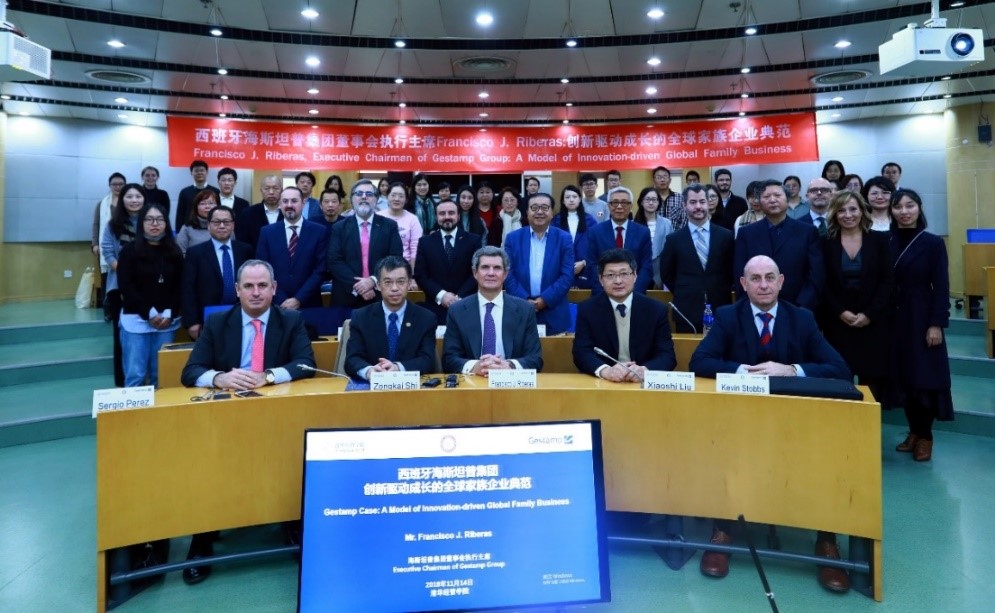 Group Photo
Dr. LU Yuebing, member of CEGESR Academic Council and Gestamp China Advisory Board hosted the event.
Gestamp is present in 22 countries with 108 manufacturing plants and 4 under construction, 13 R&D centers, a workforce of more than 41,000 employees worldwide. Its turnover stood at €8,202m in 2017. Gestamp is listed on the Spanish stock market under the GEST ticker.