On November 11, 2019, Tsinghua SEM Advisory Board Member William E. Ford, CEO of General Atlantic (GA) visited the School and gave a campus talk which attracted hundreds of students. Mansfield Freeman Chair Professor BAI Chong-En, Dean of Tsinghua SEM attended the meeting and delivered a speech, Assistant Dean CHI Wei hosted the meeting.
Dean BAI welcomed William E. Ford and expressed gratitude to him for communicating with the students. He said that GA has maintained close relationships with the School and William has always supported and concerned about the development of Tsinghua SEM, promoting collaboration between the School and GA concerning youth education and human resources development.
William talked about investment in growth stock, exploration of Chinese markets and career development opportunities. He also gave an introduction to GA, as an international growth stock investment corporation, it has been devoted to discovering potential markets and mature growth corporations and planned to provide support such as funds, strategies, etc. He looked forward to the bright future of Chinese markets and believed that economic growth, consumption upgrade and digital economics would bring more opportunities to China. His investment has increased in China during previous years. In respect to recruitment and collaboration, he claimed that he will offer internships and full-time working opportunity to students of Tsinghua SEM and expect outstanding youths who are equipped with commercial analytical abilities and team working spirit to join in.
In the Q&A session, students engaged in stimulating conversations with William regarding the development of Chinese industry, market opportunities and investment strategies. William shared his interpretation of leadership from the perspectives of a CEO. He firmly believed that establishing a trust relationship is very important. The ambition of the leader and his commitment to the team is constructive to the construction of corporate culture and interpersonal relationship.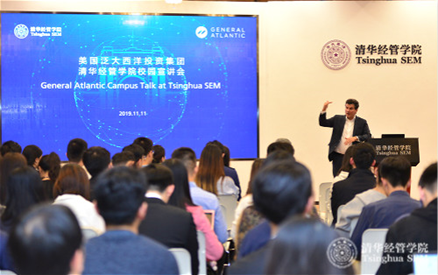 William E. Ford