On 20th October 2016, Jim Breyer, the renowned venture capitalist, the Founder and CEO of Breyer Capital, Chairman of Tsinghua University School of Economics and Management (Tsinghua SEM) Advisory Board, shared his insights during a 90 minutes Q&A session with Tsinghua SEM students from undergraduate, master, MBA and Ph.D programs as well as entrepreneurs from Tsinghua SEM X-elerator.
Mr. Breyer has invested in over 30 public and private consumer internet, media and technology companies. He served as Partner at Accel Partners from 1990-2015 and is the co-founder and on the strategic investment committee and board of directors of IDG China Capital Funds. He has been an active investor in China for over a decade, interested in making early-stage technology, media, and telecom investments in China.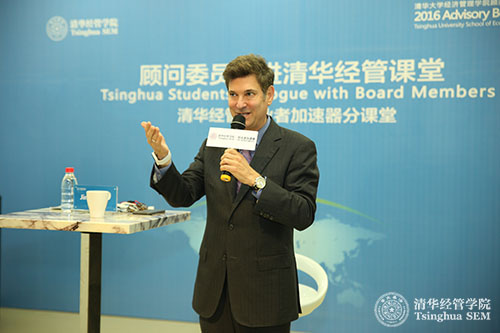 Jim Breyer, Chairman of Tsinghua SEM Advisory Board, Founder and CEO, Breyer Capital
The Q&A session was structured according to three main topics: the global as well as the American and Chinese macroeconomic outlook, the conditions and future investment environment in the US and China, and the opportunities and challenges in entrepreneurship and start-ups. Mr. Breyer also shared some advice to enhancing personal competitiveness in the current highly aggressive career environment.

The session was started with a question on the prospects of a highly unstable global capital market and the impact of such on the investment environment and the economy. While recognizing the risks in such a volatile environment for both the US and China, Mr. Breyer believes that good investments with high returns in early stage start-ups happen in moments of great turbulence. Mr. Breyer was particularly optimistic about the investment opportunities in new generation energy such as solar engineering, which he believes has large potential.

Mr. Breyer is personally interested in the development of artificial intelligence, especially cross-industry applications, such as finance and healthcare. He described his fascination with the artificial intelligence-related innovations showcased in the Tsinghua SEM X-elerator during the tour, and acknowledged the frontier role of China in artificial intelligence technology. He went further to predict that the US and China will own 60% of the artificial intelligence market in the future.

With regards to the development of the digital healthcare industry, Mr. Breyer was glad to share his new investment in Heal.com, an online platform which provides on-demand healthcare services to the doorsteps of users. He is confident of the vast opportunities within digital healthcare, and observes that relevant technology and platforms would be more crucial and demanded in China where healthcare system is yet developed.
To satisfy the curiosity of many budding entrepreneurs in the class, Mr. Breyer shared his tips and advice on entrepreneurship and start-ups. As a highly experienced venture capitalist and a fan of early-stage start-ups, he emphasized passion and technology as the two core components of a start-up or entrepreneurial project. In his opinion, a successful start-up team is highly passionate, adventurous, experimental, confident yet humble. Using his most widely known investment in Facebook as an example, he illustrated how Zuckerberg's high confidence and trust in Facebook back then over a dinner pitch were defining criteria which prompted the investment decision. Also, Mr. Breyer greatly admires Zuckerberg's ability to hire incredibly capable players and form a good team to develop Facebook, such as COO Sheryl Sandberg and CPO Chris Cox. He believes that the composition and dynamics of the team are important criteria for a successful start-up.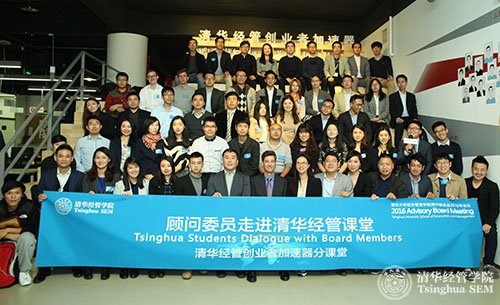 Group photo
Lastly, Mr. Breyer gave advice on personal career development for students and entrepreneurs. In preparation for a more competitive job market and underperforming global economy ahead, Mr. Breyer encouraged students to be truly global and open-minded, and more importantly to stay humble. He recommends travelling as a way to understand the philosophies and development in different regions, and to appreciate the vast capacity of the world and the endless opportunities and untapped talents in different parts of the world. A good balance of confidence and humility is both the prerequisite and takeaway from travelling. Furthermore, Mr. Breyer emphasized the role and importance of mentorship in one's career development. The choice and quality of mentorship can influence future career paths and personal development, he advised. Using his previous job experiences in Apple and McKinsey for illustration, he argues that only passion and interest can be the most reliable guide in career choice amidst the high unpredictability of the future. (by LIU Yuxuan)