On May 10, 2017, The TIEMBA Leadership Forum was held at Tsinghua University School of Economics and Management (Tsinghua SEM).
The event was moderated by Professor Steven White from the Department of Innovation, Entrepreneurship and Strategy who is also teaching the course of Cross-Cultural Management in the TIEMBA program. TIEMBA alumni Mr. Urs Andreas Laeuppi (Class of 2012) and Mr. Horace Chang (Class of 2016), as well as Mr. Andy Mok from China Global Television Network (CGTN) were invited as panel speakers to share their insights on riding China's new innovation wave from a unique perspective.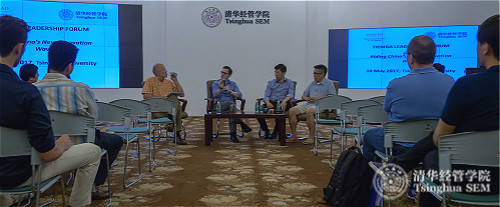 The TIEMBA Leadership Forum: Riding China's New Innovation Wave
With a background in Industrial Design, Mr. Laeuppi, Director at Daimler Greater China Ltd, discussed the upcoming automotive trends, and how these trends may impact the bike-sharing and car-sharing industry. Being the founder and managing partner of Ideate Investment in Shanghai, Mr. Cheng shared the new changing of entrepreneurs' and investors' expectation. As an alumnus, he helped to found the Tsinghua x-lab Coach Centre. Mr. Mok brought his expertise from CGTN's column "New Money". Then the speakers had a deep discussion with the participants on the topics of "Is there an innovation wave in China" and "What's new about this wave", etc.
TIEMBA is a unique and modular dual-degree programme that offers participants the best of two institutions: Tsinghua SEM, one of China's elite universities, and INSEAD Business School, one of the world's top international business schools. It is always an important part of the programme to combine theory together with practice, which leads the program to invite global executive leaders walking into the class.
(source: EMBA Programs)