On May 23, 2017, Future Planet Capital hosted an inaugural awards ceremony honoring the best start-ups across five categories at the Global Corporate Venturing Symposium. PragmatIC which develops ultra-low cost flexible electronics was the overall winner of the "2017 Future Planet Award" and the winner of "Security Award". Tsinghua x-lab based synthetic biology and biomaterial company Bluepha was honored with the "Sustainable Growth Award".
Future Planet Awards is an annual event hosted by the Future Planet Capital. This event aims to find breakthroughs in 5 categories including Sustainable Growth, Security, Climate Change and Education. Besides, Future Planet Awards' ambition is to bring together investors, start-ups and academics to meet the challenges in the future. This competition invited teams from 12 countries worldwide, and drew the attention of the world leading innovation centers at universities, such as University of Oxford, University of Cambridge, Imperial College London, Tsinghua University, The University of Tokyo, Stanford University, Massachusetts Institute of Technology, and so on.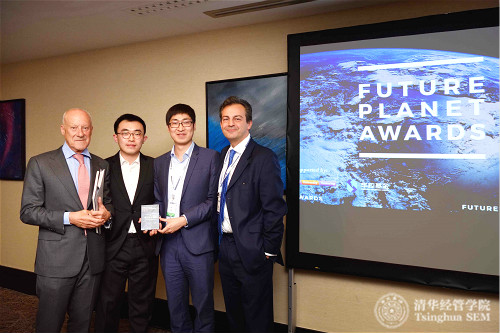 Dr. LI Teng (CEO of Bluepha, second from the right) received the award from Douglas Hansen-Luke, Managing Partner of HLD Partner and Executive Chairman at Future Planet Capital (first from the right)
Bluepha is a synthetic biological and biomaterial company, producing ecofriendly plastic. With global plastics production standing at over 300 million tons a year and more than 99% of plastics made from non-renewable fossil fuels, the market for Bluepha to tap into is vast. Bluepha is the only Chinese company to be selected in this event, marking a worldwide recognition of Chinese technological innovation.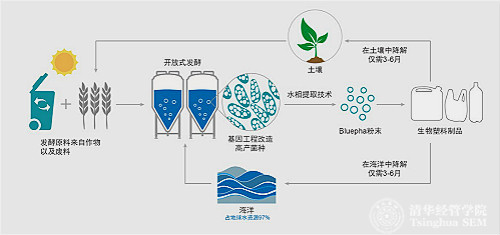 Bluepha's biotechnology flowchart
In November, 2014, Bluepha was founded as a student start-up biomaterials team. At that time, LI Teng and ZHANG Hao were doctoral students at Tsinghua University and Peking University respectively. In December, 2014, Bluepha Biomaterials Team joined the Tsinghua x-lab and participated in a series of training activities. In May, 2015, Bluepha Biomaterials Team won the 2nd Tsinghua President's Cup. In 2016, Bluepha was officially registered as a company. After months of hard work, in a Tsinghua x-lab's activity for investment and financing, Bluepha won a $5.6 million investment.
(Source: Tsinghua x-lab)