On May 18, 2017, Tsinghua SEM MiM-CEMS Program and AlphaSights hosted a skill seminar titled "AlphaSights's China Market Strategy".
Ms. SU Jian from AlphaSights Hong Kong Office introduced the Expert Network Service (ENS), including service profile, clientele, and industry standing.
Matt Meyer, Client Manager of AlphaSights Hong Kong office, led the students in a case study of China market entry strategy. Divided into four groups, the students presented their findings and underwent peer review. The first group talked about AlphaSights' strategic advantage in the Chinese market, holding the view that the upmarket service with high quality and mid-top tier clientele should remain the focus when the company faces a competitor's low price strategy. The second group stated that AlphaSights' management of Chinese experts should take Chinese culture into account. The third group addressed unique aspects of AlphaSights' career development program. The fourth group reenacted the company-client interaction to highlight AlphaSights' highly customized services. Then, Meyer approved the students' analysis and professional performance, and listened carefully to their management opinions.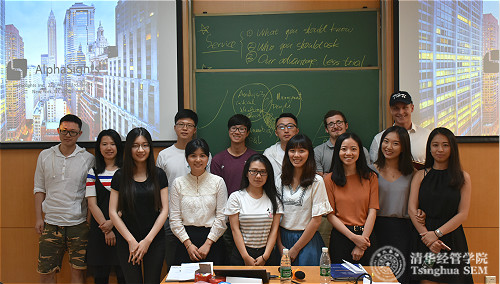 Group photo
At the end, Mr. Meyer discussed the career choice and development with the students. According to him, corporations look for talents with three types of capacity: strong analytical skills, advanced management skills, and the capacity to close deals. He suggested the students to make decisions based on their strengths.
CEMS is a strategic alliance of top business schools, leading multinational corporations, and not-for-profit organizations. Skill seminars are a unique part of CEMS training, providing students with direct access to corporations and training seminars in practical skills. They are essential to kick-starting an effective professional career and fundamental to adjusting easily to an international management environment.
(by CHEN Xin, Master's Programs Office)
AlphaSights
AlphaSights was founded in 2008 and its headquarters is based in London. It is a professional services firm employing several hundred ambitious professionals in 8 offices around the world. AlphaSights' clients are decision-makers at major corporations, investment funds, strategy consultancies and non-profits.