On May 11, 2017, The TIEMBA Leadership Forum was held at Tsinghua University School of Economics and Management (Tsinghua SEM).
The guest speaker was Dr. Luigi Tiziano Peccenini (Pecce). Pecce is best known for founding Wall Street Institute in 1972, which was later rebranded as Wall Street English. In China, its influence is undeniable as it was voted the most renowned Foreign Language Teaching Brand. Throughout the world, Wall Street English has over 400 learning centers in 27 countries and a total enrollment of more than 180,000 students. Wall Street English is now a subsidiary of Pearson PLC, which is the largest education company as well as the largest book publisher in the world.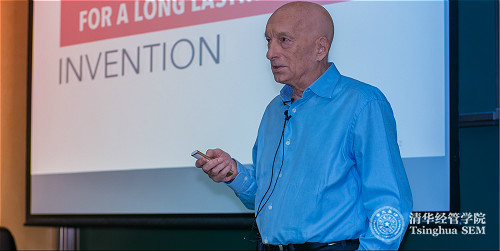 Dr. Luigi Tiziano Peccenini speaking at the TIEMBA Leadership Forum
At the forum, Pecce shared his life experiences and the obstacles he faced in his business journey. He experienced failed product lines and bankruptcy. But he learned to see opportunities beyond the problems. Throughout his career, Pecce redefined what education services can mean to students. He created Computex in 1968, for computer training and education. Three decades before MOOC, he gave control to the students. His blended-learning system (online + offline) has now been utilized all over the world, and is routinely copied due to its efficiency.
Moreover, Pecce emphasized the importance of social responsibility. He gave examples of how "lack of business ethics and human values" led to the demise of other companies and management. At the end, Pecce presented each student with a special gift bag containing his book: Winning Heart.
TIEMBA is a unique and modular dual-degree program that offers participants the best of two institutions: Tsinghua SEM, one of China's elite universities and INSEAD Business School, one of the world's top international business schools. It is always an important part of the program to combine theory together with practice, which leads the program to invite global executive leaders walking into the class.
(source: EMBA Programs)