From June 3 to 10, 2017, the China part of Chinese-German Entrepreneurship Study Program between Tsinghua University School of Economics and Management (Tsinghua SEM) and RWTH Aachen was held in Beijing. 24 RWTH students and professors visited Tsinghua SEM for 8 days. The entrepreneurship program was consisted of innovative courses, company visits and intercultural events.
In the entrepreneurship and innovative courses, Associate Professor JIAO Jie and Associate Professor GAO Xudong from the Innovation, Entrepreneurship and Strategy Department for Tsinghua SEM investigated the status quo, business model and development strategies of Chinese companies, highlighting the cross cultural challenges they encountered.
Tsinghua SEM also arranged company visits to Beiqi Foton Motor Co. Ltd., Jiuxian, and Talking Data for students and professors from TWTH Aachen. During the visits, German students deepened their knowledge of the business model and innovative transformation of Chinese companies.
In addition to participating in workshops and company visits, cultural events were held to enhance mutual communication between students. Tsinghua SEM arranged an introductory course about Chinese language and culture to Aachen students. German students also took part in a "buddy program" to pair with Chinese students. Chinese buddies met their German buddies regularly to explore Tsinghua campus and the city of Beijing.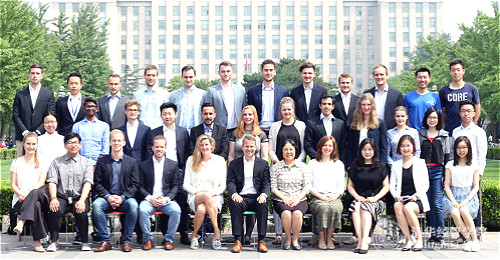 Group photo
The Chinese-German Entrepreneurship Study Program between Tsinghua SEM and RWTH Aachen was launched in 2015, aiming at providing students with multiple perspectives to view the world. The second part of the Chinese-German Entrepreneurship Study Program will take place in Germany in late September, where Tsinghua Students will have the chance to gain further insights into Aachen.
(Source: International Office. Reported by Jing Yuan and Zhang Xiaohan. Edited by Yin Haiyan)