On October 28, 2017, the "Tsinghua Students Dialogue with Board Members" was held as part of the series of activities of Tsinghua SEM 2017 Advisory Board Meeting. Mark Zuckerberg, Founder and CEO of Facebook and member of Tsinghua SEM Advisory Board, had the opportunity to meet with over 300 students and dialogue with Dean QIAN Yingyi at Tsinghua SEM.
Dean QIAN Yingyi gave an opening remark and welcomed Mark back to Tsinghua again. He mentioned the course "Innovation and Entrepreneurship: Insights from Silicon Valley" which was successfully held jointly by Tsinghua SEM, Tsinghua x-lab and Facebook last semester. It brought together nearly 200 students across all disciplines, from undergraduates, MBAs to PhDs who formed 37 teams to implement their own projects. Facebook sent seven executives to lecture in the course, and industry coaches, mentors and investors worked together with the students to facilitate the team projects.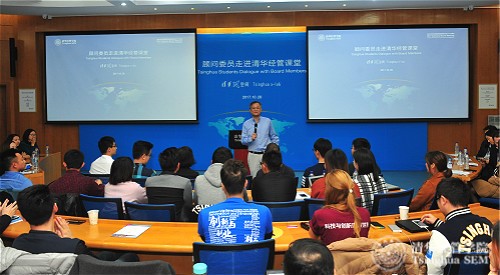 Opening remarks by Dean QIAN Yingyi
Zuckerberg expressed his honor to be here in Tsinghua SEM, attending the Advisory Board Meeting and joining the session with the students. He looked forward to sharing with students here and could not wait to see the teams present their projects.
Remarks by Mark Zuckerberg, Founder and CEO, Facebook
Following Dean QIAN and Zuckerberg's opening remarks, three teams, DeepMusic, Luckey and AiHrt came up to the stage, they gave introductions about their projects and expressed their appreciation for all support they got from Tsinghua x-lab and Facebook. Among which AiHrt and Deep Music are the winners of first and second prize in the course "Innovation and Entrepreneurship: Insights from Silicon Valley," and Luckey is the champion in the Tsinghua Innovation and Entrepreneurship Competition. Their projects are on AI+music, Interactive Sensory Input and AI Medical Platform, respectively.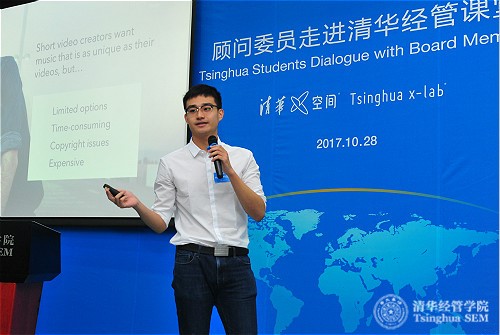 Presentation by DeepMusic team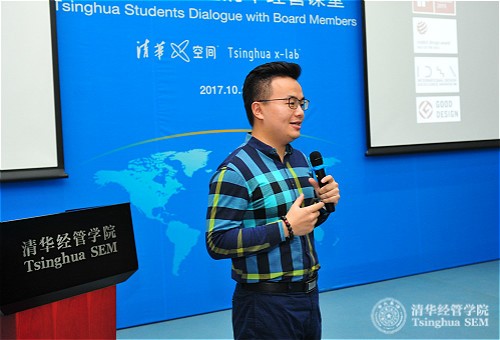 Presentation by Luckey team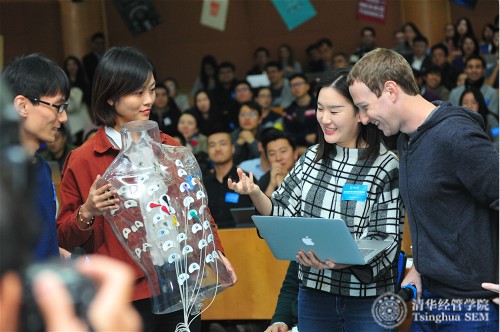 Presentation by AiHrt team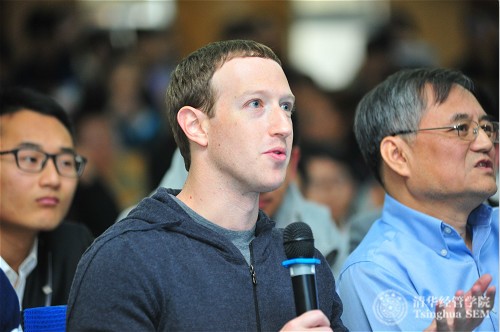 Zuckerberg made comments to teams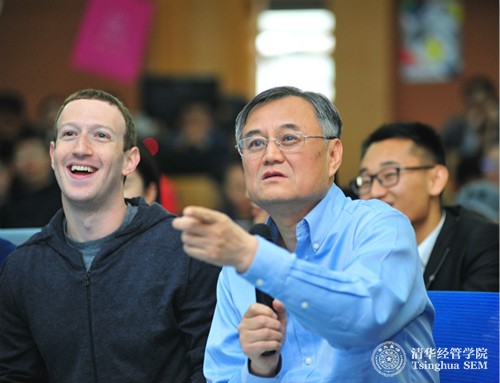 Dean QIAN made comments to teams
Zuckerberg and Dean QIAN listened attentively to the team pitches and product demonstrations. Zuckerberg raised questions and gave remarks about their technology, user experience and business model.
After the presentations, Zuckerberg and Dean QIAN sat down to a short but very insightful dialogue. Dean QIAN firstly mentioned the current enthusiasm on technology especially AI, but the landscape of innovation seems way more crowded than even 10 years ago, and asked Zuckerberg whether he agreed that it is harder to start a business now than before? Zuckerberg pointed out that we should separate out two things which are to do interesting things in technology and to create a successful company. He further suggested that one should work on something he or she is excited on but most other people are not excited on, that is where the most opportunities sit.
Dean QIAN Yingyi dialogued with Mark Zuckerberg
Then they talked about the "purpose" to start a business. Zuckerberg mentioned that a lot of founders of great companies were not intended to build a large enterprise initially but to solve a meaningful and valuable problem. Doing things that you think is important and worth doing is very important especially when facing difficulties which almost every company would. He also shared his own experience and some stories in the early days of Facebook. Dean QIAN suggested young entrepreneurs to think more on "why" rather than always keeping an eye on "how".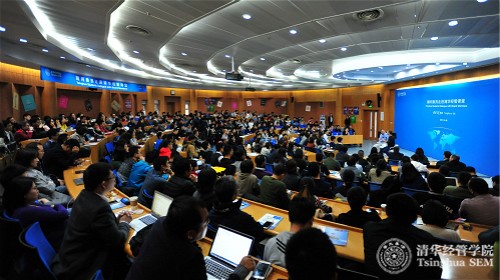 Dean QIAN Yingyi dialogued with Mark Zuckerberg
Dean QIAN and Zuckerberg also discussed about how technology can improve education. Zuckerberg said they are also trying to use technology to bring social changes, of which education is a very important part. One idea is to let students learn in a pace and a style that suits them, so that students can work on what they are really interested in and with a more flexible and suitable pace. They also found that scalability of high standard education resource is still a major problem, good teachers and schools are only available to very limited population, and Facebook is working on making good education resource and models more scalable. Facebook has already implemented a system in several schools where hundreds of thousands of students are already using them, and is hoping to expand this more widely.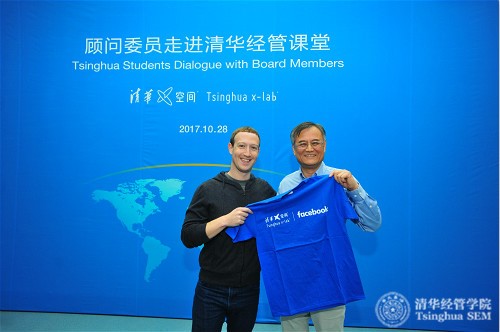 Dean QIAN presented a gift to Mark Zuckerberg

Group photo
At the end of the lecture, Zuckerberg stated that he was really impressed by spirit of entrepreneurship, the hunger to build things, and the passion to get in to solve hard problems among Tsinghua students. He wished the students to always keep the spirit of entrepreneurship and believe in technology, use the passion to change around, and make an impact to the world. (by HU Zhengyu)