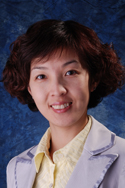 Li, Dan

Associate Professor, Department of Accounting

Curriculum Vitae
Phone (86) (10) 62796620
Email lidan@sem.tsinghua.edu.cn
Office 201G Weilun Building
Office Hours Sabbatical
Associate professor,the Department of Accounting, School of Economics and Management, Tsinghua University. She receives her B.S. in International Trade from Beijing Institute of Technology in 2001, Ph.D. in Accounting, Georgia Institute of Technology in 2007. Course taught: Financial Reporting and Analysis, Auditing.
Her research interests include Audit Quality, Auditor Independence, Internal Control and Accounting Conservatism, Financial Accounting. She has been working on projects with international accounting firms, including enterprise risk management and internal control system consulting. Her research papers have been published in The Accounting Review, Journal of Accounting and Public Policy, Management World, Journal of Financial Research, China Accounting Review, etc. Her dissertation won "the best dissertation award" at the 2007 American Southeast Accounting Conference. She won 2009 Best Employee Award, SEM of Tsinghua.
She worked as the Auditor for Ernst & Young, Beijing, China.
Journal Papers (International)

Auditor Reporting under Section 404: The Association between the ICFR and Going Concern Audit Opinions. Forthcoming. Contemporary Accounting Research (with J.Krishnan, and B.W Goh).

The Disciplining Effect of the Internal Control Provisions of the Sarbanes Oxley Act on the Governance Structures of Firms. Forthcoming. International Journal of Accounting (with B.W. Goh).

Internal control and conditional conservatism. The Accounting Review 2011, Vol. 86(3), pp 975-1005 (with B.W. Goh).

Does auditor tenure affect accounting conservatism? Further evidence. Journal of Accounting and Public Policy 2010, Vol. 29(3), pp 226-241 (sole author).