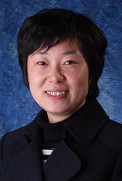 Wang, Kun

Associate Professor, Department of Accounting


Curriculum Vitae
Phone (86) (10) 62795167
Email wangk@sem.tsinghua.edu.cn
Office 307 Weilun Building
Office Hours Thus. 15:30-17:00
Associate professor,the Department of Accounting, School of Economics and Management, Tsinghua University. She is the Accounting Ph.D. program coordinator, and senior research in Corporate Governance Research Center of Tsinghua University. She received her Bachelor in Accounting from Nan Kai University in 1998, and her Ph.D. in Accounting from Hong Kong University of Science and technology. Course Taught: Introduction to Accounting, Intermediate Accounting.
Her research interests include Corporate Governance, Earnings Management. She participated in many research projects, such as the National Natural Science Fund projects. Her papers have been published in Journal of Accounting and Public Policy, China Economic Review,China & World Economy, Economics Research, Management World, China Accounting Review, Nankai Business Review, etc. She won Excellence Teaching award of SEM twice.
She is also the referee of "Economic Research Journal", "China Accounting Review" and "Nankai Business Review". Meanwhile, she served as independent director in listed companies.
Journal Papers (International)
"From State to State: Quasi-privatization and firm performance". China & World Economy Vol. 17 Issue 5, pp. 52-68, September-October 2009.
"Ultimate Government Controlling Structures and Firm Value: Evidence from Chinese Listed Companies" (with Xing Xiao). China Journal of Accounting Research Vol. 2, No. 1, pp. 101-122, June 2009.
Controlling Shareholders' Tunneling and Executive Compensation: Evidence from China (with Xing Xiao), Journal of Accounting and Public Policy, forthcoming
Ultimate Privatization and Change in Firm Performance: Evidence from China (with Zhangkai Huang), China Economic Review, forthcoming