On June 21, 2020, Tsinghua University School of Economics and Management (Tsinghua SEM) held its Commencement 2020 at the front of the Main Building, which has been broadcasted online in real time.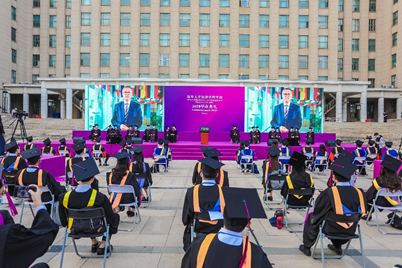 Tsinghua SEM Commencement 2020
Tsinghua SEM Dean BAI Chong-En reported that, during the academic year of 2019-2020, 229 undergraduate students were awarded bachelor degrees, 474 earned second-degrees of undergraduate programs, 799 were awarded graduate degrees (including MBA and EMBA degrees), and 58 were awarded PHDs. In total, 1560 students received their degrees from Tsinghua SEM.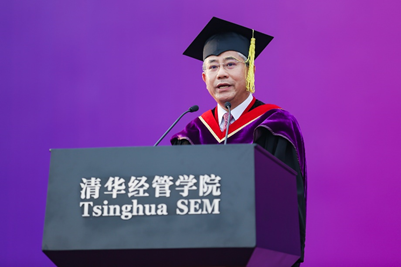 Tsinghua SEM Dean BAI Chong-En
Following on, eight student representatives from different programs were invited to speak about their experiences at Tsinghua SEM, both academically, professionally, and personally.
LUO Yinxiao from Undergraduate Program shared what he has experienced, learnt and felt during his four years at Tsinghua SEM, which has provided him with various possibilities, the ability to think independently and the curiosity about everything. "Some people may say that the era has changed the path of life that we had planned, but I always believe that we ourselves are the era and it is our choices and efforts that determine the future of the world." said LUO.
SU Jiehan from Second-Degree Undergraduate Program said that her second-degree study experience in economics and management provided her with rich resources and platforms for better understanding of knowledge related to her first degree, enabling her to experience more possibilities in the integration of disciplines. She believes that the purpose of higher education in universities, whether general or specialized, is to guide people to pay attention to their social significance, find a way to be engaged in lifelong learning and contribute for society.
XIN Zhuo from Master's Program said that three years of study the realization of the has greatly helped her understand the mission of Tsinghua SEM to contribute to China and influence the world. She said that the master's program has provided her with an opportunity to really understand Chinese society, and that she hoped to work with her classmates to shoulder the responsibilities endowed by history.
XIE Guomin from Master's Program said that during his two years at Tsinghua SEM, he not only has benefited greatly from his academic experience, but also has his value shaped. "The core values of Tsinghua SEM, which are integrity, honesty, dedication, responsibility, respect and tolerance, have shaped every student's mind". XIE said.
QIAN Yue from Ph.D. Program shared three thoughts of her ten years of study in the School of Economics and Management: "try" and "change"—"Only when one finds the most suitable direction can she obtain the pleasure of work"; "model" and "catching up" are the best encouragement to oneself— the guidance of teachers and a group of like-minded excellent students; "ideal" and "persistence"—"studying China's problems and telling Chinese stories" are always the researchers' unchangeable initial thoughts.
CHEN Yirong from Tsinghua-MIT Global MBA Program shared his experience of coming home and facing uncertainties: "from America back home, from multinational enterprises to start-up companies, Tsinghua has given me the courage to change, the opportunity in challenge and the ability to practice."
PAN Long from MBA Program introduced that years at Tsinghua have made him less anxious and calmer when facing al uncertainties. Tsinghua SEM has provided him with more choices while helped him gain knowledge and skills. He believes that there is nothing impossible as long as one sticks to his goal.
As a manager of a start-up company, TENG Leyan from EMBA Program deeply felt her growth brought by Tsinghua EMBA. "If managers try to take advantage in trial and error instead of following the rules in the early stage of start-up, later they will be needing more guidance from scientific and systematic theories. Only by constantly learning, changing and reconstructing management thinking can managers embrace opportunities and achieve career breakthroughs. " TENG said.

(From left: LUO Yinxiao, SU Jiehan, XIN Zhuo and XIE Guomin)

(From left: QIAN Yue, CHEN Yirong, PAN Long and TENG Leyan)
WHO Director-General Dr Tedros Adhanom Ghebreyesus delivered the commencement address by a video record. In his video speech, Dr Tedros has demonstrated outstanding global leadership in preventing and controlling this global epidemic.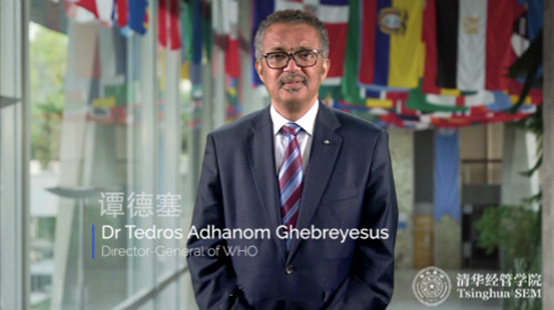 WHO Director-General Dr Tedros Adhanom Ghebreyesus
He first talked about the significance of the COVID-19 epidemic, which has revealed comprehensive global issues including political divisions and inequality on the one hand and the importance of public health on the other. Concerning public health policies, he pointed out that all countries must make a crucial shift – to focus on promoting and protecting health, rather than only treating disease. He also mentioned that the ideal recovery from the epidemic should be a healthier, safer, fairer and more resilient world, built on the foundation of equity and solidarity.
Dr Tedros also emphasized the importance of working together to face major challenges around the world. He said that the best way forward, as well as the only way forward, is together.
In the end, Dr Tedros stressed that the pandemic told us a valuable lesson which may be as important as what Tsinghua SEM students learnt in schools. As he said, "we share the same planet, the same DNA, the same hopes, dreams and fears. It's reminding us that none of us are safe until all of us are safe; that a healthier world is a safer world; and that health is not a cost, it's an investment in our common future. You all have a part to play in creating that future, in whichever field you work." And he wished Tsinghua SEM graduates can "work as ambassadors for global solidarity and our shared humanity; ambassadors for the human race", wherever their careers take them.
After Dr Tedros Adhanom Ghebreyesus' speech, Dean BAI concluded the commencement: "2020 is a special year for every one of us. The COVID-19 crisis has brought us great challenges but also rare opportunities to think and plan for the future. Let's cherish what we learnt from this crisis and take on the responsibilities and contribute our wisdom and strength to the shared development of all mankind."
Editor's Notes
Dr Tedros Adhanom Ghebreyesus was elected as WHO Director-General for a five-year term by WHO Member States at the Seventieth World Health Assembly in May 2017. He is the first WHO Director-General to have been elected from multiple candidates by the World Health Assembly, and is the first person from the WHO African Region to serve as WHO's chief technical and administrative officer.
Prior to his election as WHO Director-General, Dr Tedros served as Ethiopia's Minister of Foreign Affairs from 2012–2016. In this role he led efforts to negotiate the Addis Ababa Action Agenda, in which 193 countries committed to the financing necessary to achieve the Sustainable Development Goals. He has served as Ethiopia's Minister of Health from 2005–2012. Under his leadership Ethiopia invested in critical health infrastructure, expanded its health workforce, and developed innovative health financing mechanisms.
Born in the city of Asmara, Eritrea, Dr Tedros holds a Doctorate of Philosophy (PhD) in Community Health from the University of Nottingham and a Master of Science (MSc) in Immunology of Infectious Diseases from the University of London. Dr Tedros is globally recognized as a health scholar, researcher, and diplomat with first-hand experience in research, operations, and leadership in emergency responses to epidemics. He received the Decoration of the Order of Serbian Flag in 2016, and was awarded the Jimmy and Rosalynn Carter Humanitarian Award in recognition of his contributions to the field of public health in 2011.