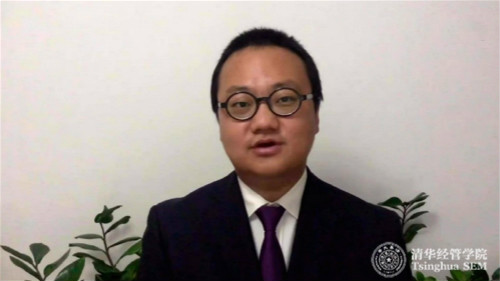 Honorable guests and professors, dear peers and friends, good evening to you all!
I am PAN Long from Tsinghua MBA program class of 2020. It is my honor to give this commencement speech on behalf of my class.
To many, Tsinghua MBA is a glory that many people yearn for while only a few people enjoy. But today, my sharing has nothing to do with the joy of a dream coming true, but what one learns, thinks and gains at Tsinghua MBA.
Ten years ago, I graduated from Beijing Jiaotong University and returned to my hometown of Hubei to become a subway technician. My first job brought me many interesting experiences. For example, I often worked with several colleagues to push hundreds of tons of trains to designated positions with our hands; in order to complete a debugging task, we often walk into the tunnel at night, and when we walk out of the tunnel, it usually turned out to be the next night. Living underground for a long time, I have stuck to this grassroot position for 8 years.
Another kind of persistence is the yearning for Tsinghua. Tsinghua's impartiality and tolerance are not only reflected in accepting those "grassroots", but also in that no matter how important your position in the company is, no matter which time zone you are living in, in order to complete your homework and case, you must always tap the keyboard to race with deadline, giving up the opportunity to even take a short nap on a plane or a train.
"Tapping on the keyboard" hasn't been long, but soon it comes to the graduation season. Our gathering today is special and precious indeed. In that April 82 years ago, China was also encountering some misfortune. At that time, Tsinghua people chose to measure the land with their footsteps and use their knowledge to fight against gunfire. What they stuck to is the love for families, commitment to peers, responsibility to the Chinese nation and loyalty to the country.
Purchasing urgently needed disinfection products for overseas customers and helping anxious fruit farmers to sell their products online—what I have done is trivial compared with those alumni who directly face the virus on the anti-epidemic frontline. But I'm not discouraged because Tsinghua's spirit is that the difference of individuals shall not prevent us from making the right choice. A soft palm can also push a heavy train. Isn't it the goal and responsibility for future leaders to gather small forces and stimulate greater potentialities?
From Xizhimen to Wudaokou on the Beijing-Zhangjiakou Railway, it took me 10 years to cross this 5-km distance. This may be the most important and unforgettable decade in my life because of my persistence and MBA life in Tsinghua. If there is any difference between this me leaving Tsinghua today and that me arriving here at that time, it is that when facing the uncertainties of the world, I become less anxious and calmer. It is Tsinghua's insistence on building a world-class university that enables us to gain more choices in the future while gaining knowledge and ability. We can climb over a mountain or swim cross a river; we can try to light up the whole sky or stick to a small piece of cloud. Stick to it, and there lies infinite possibilities.
Thanks to my dearest teachers and wishes to my dearest students! Because of Tsinghua SEM, because of our each other's existence, no matter where we go in the future, our hearts will always be illuminated by that Tsinghua purple light!
Thank you all.