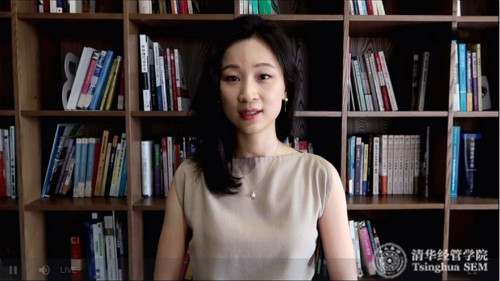 Dear faculty, peers and everyone watching the ceremony online, good evening to you all.
I am CHEN Yirong from Tsinghua-MIT Global MBA Program. Thanks for giving me this opportunity to speak on behalf of graduates and share my story with Tsinghua.
Before coming to Tsinghua, I have studied and worked in the U.S. for ten years. After graduation from college, I worked as a project manager at Barclays Bank, once handling projects with a budget of more than 10 million yuan, and had a relatively stable life in New York. When everyone started to think about settling down, I hesitated. Looking at all kinds of people in the company, I seemed to see the unchanging life in the next 30 years. Looking out at pedestrians on the Times Square from the building where I work, I often asked myself, "are you really going to live like this in a foreign country for all your life?"
During a vacation back to China, I found that the restaurant didn't need a menu to order food, the parking fee was charged by scanning code, and when going out one could get everything done with a mobile phone. I suddenly realized that I had missed the ten years of China's most rapid Internet development. The world is changing, and China is changing even faster. How can I be satisfied withmy seat next to that office window? So I took the first step to change and applied for an MBA in Tsinghua.
To an undergraduate majoring in computer science like me, Tsinghua is a sacred hall. Zhang Chaoyang, Wang Xing and other Internet leaders have made me feel the accumulation of Tsinghua people. The moment I received the letter of admission from Tsinghua, I firmly determined to return home and prepare for the unknown and challenges brought by the change. Tsinghua made me grow up, and also made me believe that I could shine wherever I am.
Studying at Tsinghua helped me accumulate a lot. In Tsinghua, there are opportunities to learn management knowledge more systematically, to practice and teamwork in many projects, to hear lectures from business leaders and industry experts and have a deeper understanding of industry logic and changes, to visit various enterprises of all scale, and to have a closer look at the real market. Tsinghua made me grow up, and also made me believe that I could shine wherever I am.
Studying at Tsinghua made me jump out of my comfort zone. Many people think that my experience suits foreign companies and big companies, and I also once thought that it was my best choice. However, in Tsinghua, I got to know the startup company I work for now. The founding team members are all Tsinghua alumni. In the past months, I was in charge of every step of its commercialization. These experiences have enabled me to quickly integrate into China's business environment.
From the U.S. to China, from the multinational company to the startup company, Tsinghua gave me the courage to change, the opportunity to challenge and the ability to practice. Two years' life in Tsinghua was busy but happy. Thanks to Tsinghua, I met my tutor who pushed a bicycle and discussed life with me on the way to classes, my professor who talked about the turbulent process of reform and opening up with a bottle of coke, my classmates who still handed out perfect answers in the examination after hangover, and a group of close friends who were both cool and sweet.
Here, I would like to thank my school and teachers, my classmates, friends and my family. In the past two years, you have helped me find a better self to meet all kinds of possibilities in the future.
I also want to take this opportunity to say a few words to my classmates scattered all over the world: To my fellow classmates who are in other parts of the world right now, yet the special circumstances prevented us from even saying goodbyes in person, but I know we will meet again in future, and will reminisce of those days in Tsinghua: the pressure and stress, the laugh and joy, we will cherish in our hearts, forever.
Finally, congratulations to all the graduates of 2020. We have finished our study life perfectly. Let's work hard, seize the opportunities, and never be afraid of changes!
Thank you all!