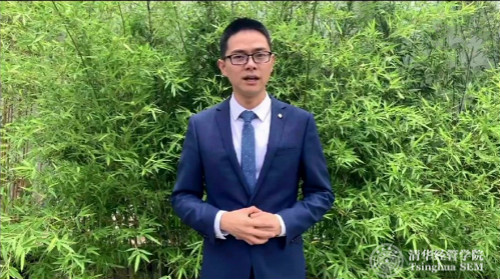 Dear faculty, students and everyone watching this ceremony online:
Good evening!
I'm XIE Guomin, one of the first graduates from the MCFO & MPAcc Dual Degree Program offered by Tsinghua University and Singapore Management University. I am honored to be a graduate representative today and share the joy of graduation with you in such a special way.
Two years ago, I stepped into college again to challenge myself. I chose Tsinghua SEM's MCFO master's program with "financial depth, financial breadth and strategic height", and have enjoyed a full and wonderful campus time.
During the two years of study at Tsinghua SEM, I have experienced a really colorful campus life: taking classes and exams in the classroom; running and competing on the playground; visiting and studying abroad, etc. Due to the epidemic, I haven't returned to Tsinghua for more than half a year. I miss the delicious food in canteens, the "CFOs" who report their safety every day in the chatting room during the epidemic, and teachers who guide our papers and prepare for our graduation remotely. Because of the epidemic, I learn to cherish the years we have gone through in Tsinghua more.
During the two years of study at Tsinghua SEM, I have benefited a lot from my major. It not only helped me build a systematic financial knowledge system, but also taught me to understand macroeconomic laws from micro financial processing and to analyze financial management from the height of strategic management. Professor Chen Xiao told us that "any CFO who doesn't want to be CEO, is not a good CFO". Professor Xiao Xing helped us read the financial report with a book, telling us that everyone needs financial thinking in order to understand the law of wealth circulation.
During the two years of study at Tsinghua SEM, reshaped values will benefit me for all my life. If you work in an investment bank in China like what I am doing now, you can be amazed by anecdotes as unbelievable as "the scallop ran away; the cash flew away; the pig starved to death". They always warn that you must be a professional financial worker with bottom-line and moral pursuit, and be the gatekeeper in the Chinese capital market. The "Business Ethics" course in MCFO program teaches us to be brave in taking social responsibility and always stick to the bottom line of moral conscience, while Tsinghua SEM's core value of "honesty, dedication, respect and tolerance" has shaped our humble spirit of "success doesn't need to be my prize" and our historical responsibility of "success must be my concern".
For us accounting majors, studying at Tsinghua SEM is a "long-term equity investment" for ourselves, which will continuously improve our life value under the fair value model. Friendships developed in Tsinghua is an "intangible asset" gained by ourselves, which will never expire or be amortized. And the identity label of Tsinghua SEM is a "goodwill": while it creates value for me, I will keep it well so that it will never be devalued!
Today, we are going to graduate. Two years is a rush during which we have experienced much.
"Tsinghua" has been a part of us since our first stepping in, and now it is hard to say goodbye when parting.
Finally, I would like to thank all the people here I met in Tsinghua.
May our future be bright and we stay forever young in mind.
Thank you all!