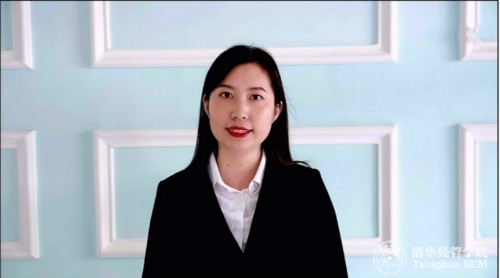 Dear guests, teachers and my peers:
Good evening!
I am XIN Zhuo from the Master's program class of 2020. It is my great honor to share my life and thoughts in Tsinghua SEM with you.
I still remember that on my first day to Tsinghua SEM, I saw its motto on a poster: "create knowledge, cultivate leaders, contribute to China and influence the world", which has taken root in my heart from that on. How can I "contribute to China and influence the world"? Three years of the Master program has offered me three ideas.
If you want to "contribute to China", you must first "understand China". The master's program provides me with an opportunity to really understand Chinese society. A solid theory also needs the fertile soil of practice. I still remember the rush to travel overnight for an in-depth understanding of the operation mode of enterprises, the anxiety of knocking on the door for the first time in order to experience face-to-face sales, the excite of communicating with members from the advisory committee, and the thrill of business competition stories told in class. All of these have made me appreciate the unique charm of Chinese commercial society.
If you want to "influence the world", you must first "perceive the world". The Master's program provides us with the opportunity and courage to go abroad and makes me deeply feel the responsibility of young students. I still remember that in a foreign class, the teacher assigned a task to study the differences between Chinese and American e-commerce platforms, but the students were unusually silent. It then turns out that to them, with the barriers of culture and distance, China is only a mysterious country in the far east. This situation makes me feel extremely sad, and I sincerely hope that my country can be more recognized and understood by the world. So, I volunteered to undertake the workload of five people by myself, trying to find the best way to introduce Chinese business model in the vast ocean of literature. Where there is a will, there is a way. When my presentation was well received, I realized that everyone can be a bridge connecting China and the world.
"Contribute to China and influence the world" is our wish, as well as the guide for our career choices. In the future, I will devote myself to the development of agriculture. Some students will use what they have learned to build a broad platform for the inflow of resources into the pharmaceutical industry. Some students chose to shine as teachers. Some students from Congo are determined to start their own businesses and become a bridge between China and Africa. Many other students choose to start their own business, combining their personal development with social needs.
The sudden outbreak of COVID-19 this year has brought a heavy disaster to the whole world, and brought many uncertainties and tests to students' work and graduation. However, we have never forgotten that "hardships make success possible". Let us shoulder the responsibility and mission entrusted to us by history!
Thank you!